We recently helped a long-time publishing customer trim, punch, and coil bind more than 200,000 books for an important nationwide customer – even though our customer had recently invested in some of their own binding equipment, too. They had planned to complete the book binding in-house; that is, until they realized their equipment wasn't performing at the speed or accuracy needed to meet their commitments. The new equipment also took trained operators away from other important work centers.
The publishing company realized they were in too deep and reversed course. They called us to accept delivery of the collated and padded books. We trimmed the book spines, punched, and plastic spiral-bound all 200,000 books on our automated Bielomatik line in less time and more affordably than they could've achieved with their new in-house equipment. Our long-term employees set up, inspected, and shipped the job on time. And the end user was very happy with the final product.
Rescue complete—relationships strengthened!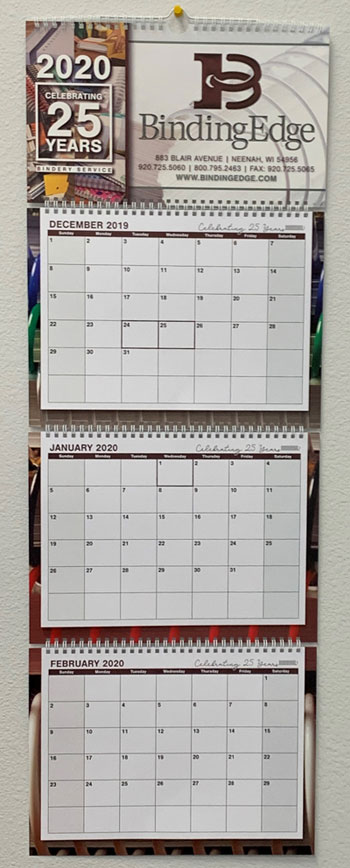 Don't Rely on Hindsight, Get Your 2020 Calendar
This year's Binding Edge calendar is extra special because 2020 marks our 25th year in business. We've watched our calendar list nearly double to 500 over the past several years and hope to count you among our recipients.
Drop us a line to confirm you are on our mailing list. We'll be sure to mail you a calendar that showcases our wire-o binding, thumb hole calendar hangers, shrink wrapping, fulfillment, and commemorative 25-year logo.
What a humbling milestone! Thank you for your trust and patronage.
Don't Go It Alone.
Our house is your house. Our customers become friends, and friends help one another. When it comes to binding and finishing, don't go it alone—contact us!