We recently wrote about the
2021 calendar printing season
– hint, it's happening now! – and one service that goes hand-in-hand is our tinning service. Tinning is a binding process that crimps a metal strip along the edges of sheets. It is useful for holding sheets together and is often used for supporting and hanging posters, charts, and our clients' promotional wall calendars.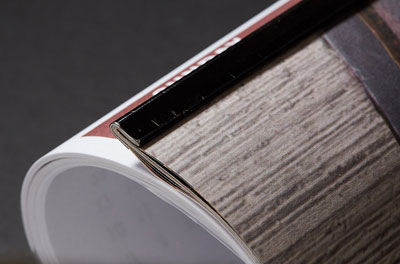 Binding Edge is only one of a handful of graphic finishers that can do this in the United States. It's a very manual process but our clients appreciate our capabilities in handling this type of custom finishing work.
If your product has just one sheet, such as the above-pictured calendar, we recommend tinning along both the top and bottom of the sheet. This prevents the bottom from curling or rolling.
Additionally, to make shipping and distribution easier, we can roll and wrap your finished products in poly, turning it into a self-mailer.
Additional specifications are as follows:
Available with zero to three hanging eyelets or a string attached to the tin
Keeps edges flat against wall
Tin colors; black, white, gold lacquer, gray, red and blue
Tin both the top and/or bottom of poster up to 30″
Tin from 1 to 14 sheets with hangers
Total thickness 1/16″